About Glucose Club
Glucose Club is here to make all healthy, happy and strong because when we are strong then naturally we are happy and healthy from all dimensions physically, mentally and emotionally.
So it's a holistic approach towards life and more so ever-entwined with nature and our ecosystem we can't survive alone. So we have to take into consideration the different aspects of nature and how to conserve it even for our upcoming generation and for us to it could range from water, soil, forest conservation, etc.
We will also deal with the infinite flora and fauna of India and other foreign lands and their medicinal values too. We also stress solely on physical fitness part because that's the core of a healthy life and healthy brain which automatically leads to healthy life. For that we stress on a strict boot camp regime followed by a mixed bag of varied workout programmes with a realistic goal.
This should become a passion for an individual and he/she will carry out their life and enjoying it not as a laborious punishment but also add different colours to their lives.
All workouts must be followed by cool down sessions, proper stretching and the schedule continues with yoga and meditation as well. With a whole lot of adventure sports like mountain climbing, swimming, woodside cycling, etc.
Our motto is to enjoy workout and at the same time you give your cent percent and see the results. If all this done with shear honesty and dedication results are bound to come. There is no point or margin for the word NO, NEVER EVER GIVE UP ATTITUDE is the motto of Glucose Club and we have got one precious life to live. So let's take an oath that WE WILL LIVE LIFE KINGSIZE!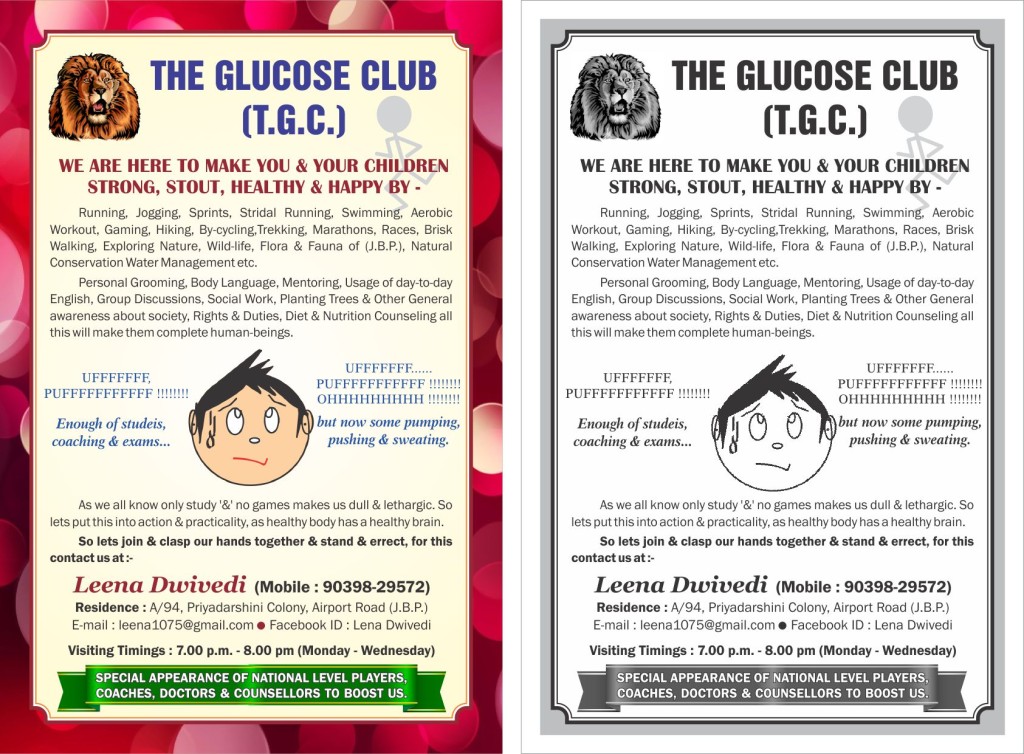 Email ID – glucoseclub@rediffmail.com
GC's Milestones
2. Cricket Camp & Matches:



3. GC is not just active in the sports field but also in many social activities. Some are:
Hygiene, Computer & English class in a Government school – click here for details – part one, part two, part three
Glimpse of GC's Events