Recently Glucose Club visited a place called Shahdol Madhya Pradesh in India for training, mentoring, counseling, counseling on diet and nutrition as well and also Glucose Club stressed on the holistic development of the youngsters and how they can have an approach towards a more holistic life style.

To begin with it was an invitational visit from SCA (Shahdol Cricket Association), there children of different age groups ranging from 12, 14, and 19 and above were there, who are playing professional cricket or planning to take cricket as their profession. The only drawback was lack of time management, channelizing the energy in more productive form, improper knowledge about the training part along with the injuries that they can undergo while scheduling wrong training sessions, imperfect or no knowledge at all about the intake of food they were eating what and when to eat, the nutritional facts were entirely lacking, the holistic approach towards life was far more away.

GC played the role of a mentor counseling and mentoring them, educating the people about their diet and especially the proper nutrition and proper balance of food may it be carbohydrates, protein, fats vitamins and minerals just how much a person needs especially if the category is that of a sports person or any other hectic life style and also acknowledged about the proper diet during this adolescent growing period, GC educated the players about the gadgets & proper clothing during the training sessions and not to mention the most important gear the shoes/sneakers, has to be feet hugging and very comfortable pair to avoid any further complex injury. GC highlighted the dos and don'ts during a single practice session, and also what to avoid and what to eat.

Regarding the psychology factor behind any game here cricket especially, GC tried to explore the inner tussle which goes on while playing the game and tried to eradicate their problems one on one and it was very rejuvenating to see a satisfactory smile streaming on their faces.
During their lunch and short snacks break GC peeped in to their platters to see their nutrition potion and suggested, handed over a general diet and nutrition regime and even handed over specific diet charts to those who were mal or under nourished, not just that GC even talked with the management staff and other officials regarding different problems and their rectification.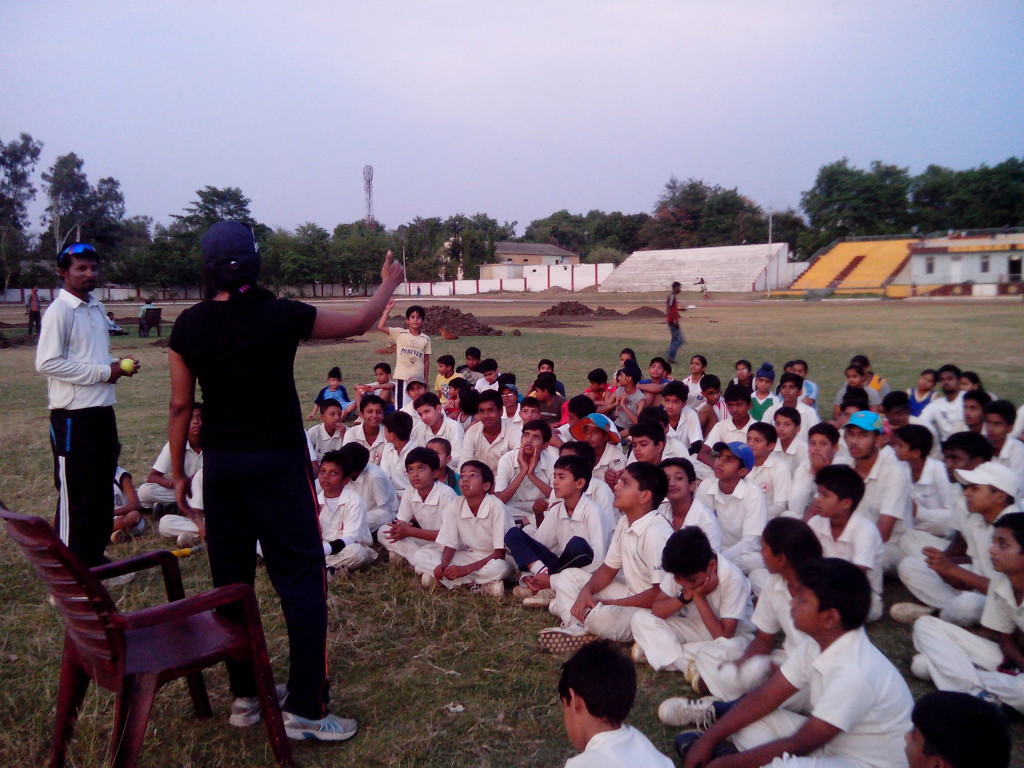 GC even highlighted on the need of real education and as children from many remote places like Dindori, Kundam, etc so GC highlighted even to take care of the natural resources as they are abundant there and how to train in those rugged terrains and also how to maintain a nutritious diet in low budget. Anyways the overall result was overwhelming and GC had one on one talk even with players, who had problems or needed to talk on some specific query.
Thus GC satisfactorily announces one more success story to its account and recently from there boys and girls are getting selected for junior and senior Madhya Pradesh teams, out of them one 18 year old girl Puja Vastrakar has been selected for senior one days women's team and now waiting her turn to be called for senior women's Indian team, hats off to her from GC and all the good wishes.
Level 1 coaches from BCCI Mr. Sonu Robinson and Mr. Ashutosh, were also present during GC's workshop and along with many other officials who were senior players of MP who keenly watched the working of GC acknowledging the fact one workshop is not enough to spread the goodness and vitality of GC and how it can bring be enlightenment in to the lives of others.
Along with cricket the players were also from basketball, volleyball, athlete and other sections of sports that were all catered simultaneously by GC.